Messenger Rooms, Facebook's online meeting service, is officially released
Video call for up to 50 people with no time limit
Hello! I'm Shintani, the designer.
On May 14, 2020 (local time), I used Facebook's online meeting service, Messenger Rooms, which was officially released!
To use it, the organizer (the owner) must first create a room via Facebook or Messenger Create a link and send it to the people you want to invite. The person who receives the invitation URL can easily join the event by simply going to the URL The organizer of the room will need a Facebook account.
Although a Facebook account is required for the organizer to set up the room, anyone can join without an account for the invitees, as long as they have an invitation URL.
Messenger Rooms can be used by up to 50 people for an unlimited amount of time. strong>You can. The free version of Zoom, which is now widely used for online meetings and drinking sessions, has a time limit of There is, so this is a big difference.
In fact, many people have experienced the sudden end of a conversation online when they're in the middle of it.
Let's try out Messenger Rooms
Support for web browsers and mobile apps
Messenger Rooms is a form of Messenger with video conferencing capabilities. As in the past, PC users can use it through a web browser. Mobile is available through the Messenger app, and the introduction of the online meeting service It seems to be one of the simplest and easiest to use (it seems to work in a browser as well).
If you're using Facebook on your PC, creating a room is very easy. Facebook Page Click the video icon in the bottom right corner or the video icon on the Messenger page to see the room The creation screen will appear.
Let's try it out.
Host a meeting room and invite them.
■The procedure for creating a room is simple (on a PC)
① Go to Facebook.
② Click the [Video Icon] on the bottom right to create a room.
③ After creating a room, click on the Participant button at the bottom of the page and an invitation URL will be sent to you. All you have to do is to let the person you want to invite know the URL.
Once they receive the invitation, they can click on the URL and join the room without a Facebook account.
It's so easy! It's important to note that at this point in time (May 22, 2020), only Chrome is compatible with the browser It seems to be, and I was not able to use it on Edge, Safari and Firefox.
It may feel inconvenience for those who are using other than Chrome.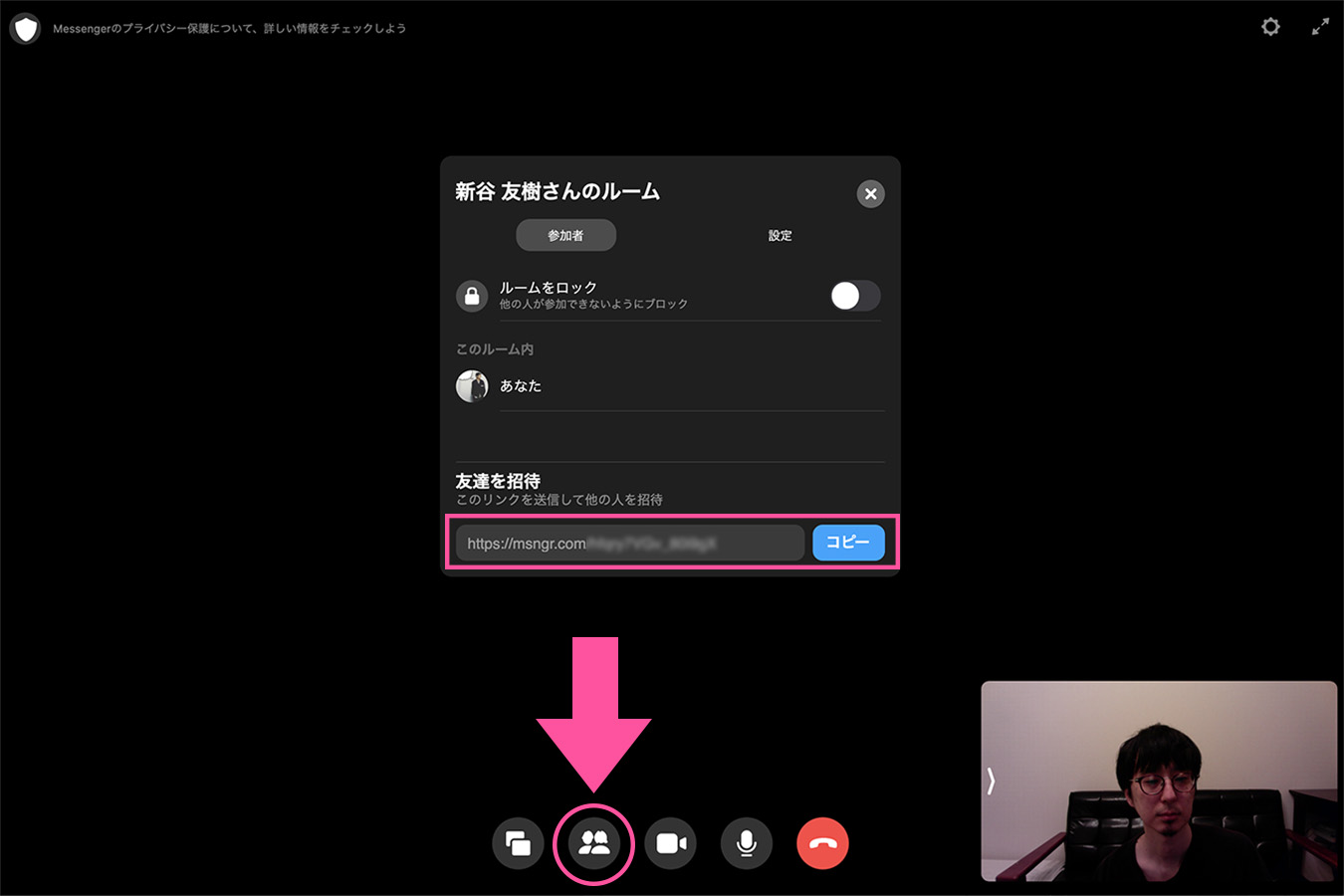 On your phone, if you're with someone you're already connected to on Messenger, you can create a room and immediately You can share the invitation URL. However, I found the process of sending the link to the recipient to be a bit cumbersome when using a PC.
If you look at the fact that there is not much browser support, it is designed mainly for mobile Messenger app. Are you there? I felt that.
By the way, I convened my friends out of the blue. This is what it looks like when you join. It's gruesome………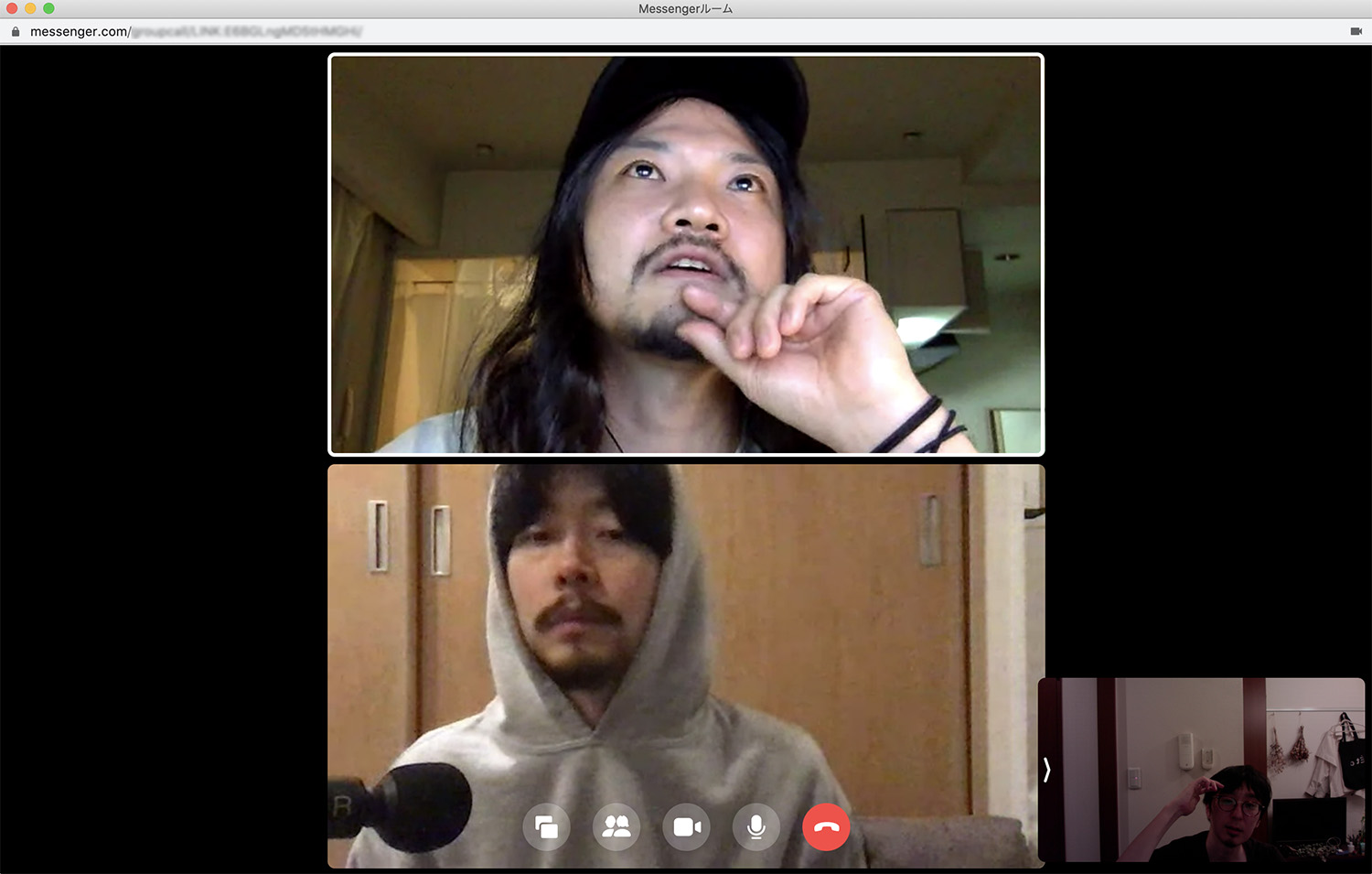 What's the difference between the popular Zoom and Google Meet?
While it's easy to implement, the features…!
As for the introduction, I found Messenger Rooms to be simpler and easier to understand than Zoom/Google Meet.
Zoom requires an app for both PC and mobile, while Google Meet requires a web browser but a Google account is required.
Messenger Rooms requires owners to be logged in with a Facebook account, but those who are invited do not need a Facebook account.
You don't even need an application to conduct a video conference, all you need is a web browser. . It's structured with the best parts of both, and is a little less daunting than Zoom and Google Meet I felt it.
However, in terms of functionality, there are no functions such as the chat function, recording function, layout change or background change that are in Zoom or Google Meet.
Screen sharing, room locking, etc. are the bare minimum functions required, and frankly, there are parts that are lacking.
Summary
We use both Zoom and Google Meet interchangeably. Unless you're looking for advanced usage or multi-functionality, you can use Messenger Rooms, Zoom, and There's not much difference between "Google Meet", and all of them are simple and easy to use. It's easy to do.
All of the services are easy to implement, and you can use different services depending on the users you want to invite and the purpose for which you want to use them.
The market for online meeting services is fiercely competitive with the explosion of users of Zoom, Google Meet and other services.
It will be interesting to see how Messenger Rooms develops in the future and whether it will be updated in a way that will scare away other services.
That's all for Shintani!